28
Mar '20
Coronavirus had affected all the media environment in just a few weeks, impacted all the industries, and turned the customers flow into the online direction. As countries close the borders, employers enforce employees working remotely, storefronts and public areas shut down, and people quarantined inside, the world businesses are turning online to stay maintained.
The main question for businesses now is how to use this situation to grow.
Let's discuss the main trends and the ways to manage them.
Mobile Entertainment Markets
According to App Annie, the time spent in mobile significantly increased during the Coronavirus pandemic. As long as people are required to stay at home, they spend more time online to stay connected, work remotely, be up-to-date with the latest news, and entertain themselves. In Italy, so many people have been playing "Fortnite" that it's begun to stress the country's telecom systems, according to Bloomberg. Valve's Steam platform, meanwhile, recorded a record of 20 million users playing simultaneously on March 15, as the virus began to spread more in the U.S.
However, hurt by the recent market crash, are still performing better than the broader indices by as much as 10%. And, with two new home consoles from Microsoft and Sony coming by the end of the year, the industry could see higher growth come November.
Who does the profit? The ones who join the online party the sooner, the better. Wendy's brand integrated into the top popular Fortnite game to interact with its audience. The branded character spread the brand values about "hating frozen meat" worldwide.
Business Apps
The explosion of Business app downloads and usage in every country faced the COVID-19 quarantine starting with China happened in weeks of country closure, and people forced to work from home with social distancing policy obeying.
Coronavirus has pushed countless companies to work from home, and remote employees need business tools. During the first half of February 2020, Business apps were downloaded at levels roughly 2x the weekly average in 2019. Popular apps during this time included HUAWEI CLOUD WeLink, DingTalk and ZOOM Cloud Meetings, according to App Annie.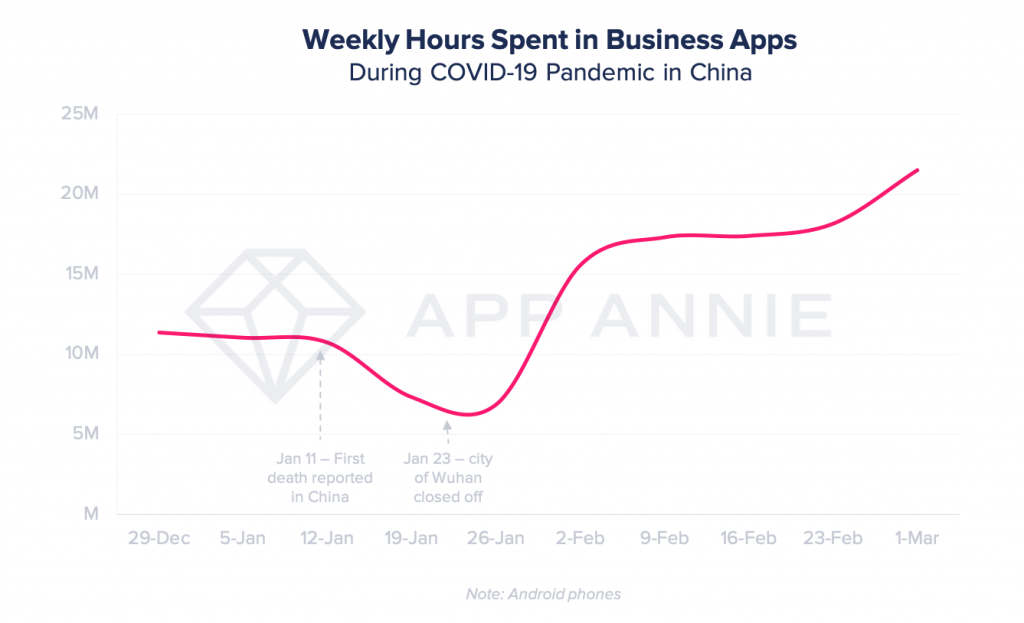 This trend is typical for markets in other affected countries when workers jump to mobile apps to maintain their business routine and global tasks, trying to keep communication and collaboration with colleagues and clients. Globally, there are ZOOM Cloud Meetings top downloads charts across many markets.
Who does the profit? As of March 16, 2020, ZOOM Cloud Meetings tends to be not only the profitable App but your whole office being # 1 in among Business apps on iPhones in 90 markets.
Social Media and Entertainment Apps Thriving
Besides gaming and business maintenance, consumers jumped to social media and video streaming apps to entertain themselves and stay online with friends and relatives. In China, TikTok hit a surge in average time spent per user as well as total time spent in the App on Android phones following the initial COVID-19 outbreak. In 2019, there were 8 of every 10 minutes in TikTok come from users in China and time spent exceeded 68 billion hours worldwide. The week of March 1, 2020, was TikTok's biggest week ever in China, with consumers spending over 3 billion hours in aggregate in the App - up 130% from the weekly average in 2019. This raise happened due to both an increased number of users and spending more time in it on average.
While the time spent in the top 10 video streaming apps on Android phones in the U.S. has not yet seen a meaningful uptick during the months of the coronavirus pandemic, hovering at an average of 405 million hours as of March 1-7, we did see a shift in the apps ranking among the top 10. Looking at the first week of March 2020, where the coronavirus outbreak and market, government and commercial response escalated, we saw two video streaming apps with rapid growth. They entered the top 10 is an indication that consumers are looking outside their standard "go-to" streaming apps expanding the catalogue of available content.
People, required to keep social distance and work remotely, are spending their pastime in their smartphones and tablets watching new series and shows. The striking example is Pluto.tv- a free streaming app with no subscriptions. According to App Annie's research, during the week of March 1-7, 2020, time spent in Pluto increased 75% week over week on Android phones in the U.S. - the highest week ever for the App. In fact, the time spent during this week was 2.5x the average weekly time spent throughout 2019 and 2020. This number is a result of both of a wider audience using the App as well as the average user spending more time in the App. For video streaming apps, this equates to streaming more content. Companies are adapting to this desire for more content from home during the coronavirus pandemic. In essence, movie theatres are releasing movies currently in theatres available to stream at home and Disney released its latest shows on Disney+ early to digital rental.
Who does the profit? So there are two types of businesses that get benefits from the total people isolation. The first one is the ones who provide significant apps like Netflix, YouTube, TikTok or Instagram as their audience grows or at least spends more time online. The second type of business that earns with quarantine is companies paying for ads on social and entertainment platforms. This trend corroborated with storefront closed and millions of people who still need or addicted to shopping has to do it online instead of roaming through stores. In conditions of isolation, the need for significant goods or services does not disappear but evolve being redirected online.
Consumers Turn to Mental Health to Flatten the Curve
The COVID-19 cases beget the uptick of average weekly time spent in Health and Fitness and Medical apps through the week of March 1, 2020, on Android phones in the U.S. According to App Annie's research, Headspace - meditation and mindfulness App - has seen a 90% increase in time spent on iPhones in the U.S. during the week of March 1st week over week. Once quarantine restraints enabled, people turned into their mobiles to find the relief from stress and environment tension. In China, there was a visible growth in hours spent in Medical and Health and Fitness apps throughout February and the first week of March.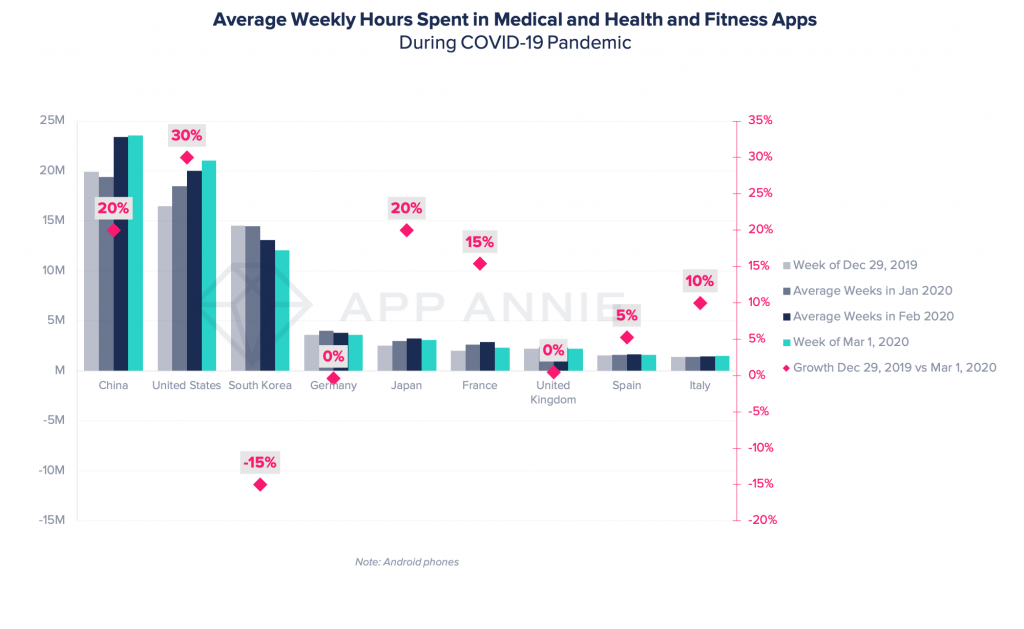 Who does benefit? The ones who deliver a quick and relevant solution and native apps for people's urgent needs. The user-friendly interface, high-quality content, and short-time response to the audience's inquiries make the App development a rapid-fire tool for business promotion.
Looking Forward, Mobile Apps Do Reflect Our Lifestyle
As long as mobile devices are a crucial part of our everyday life, we turn to it every time we have something that happens. No matter it was something good or bad, we always seek support, entertainment, a safe place for ourselves and our loved ones. Not only do Mobile Apps bring social engagement, but they are an engine that delivers news to our routine.
Being mobile zealots allows us to get the information and services we need in case of need. Whether it is the ability to accomplish the work tasks, distraction and entertainment or knowledge on how to do our best and stay healthy, informed global citizens.
Do not wait for the second epidemic; run your Mobile or Web application right now. Our team is a squad of experts in Mobile Application and Web development, so check out our portfolio and enrich your audience today. Use the code #STAYHOME to get a special offer!
Other articles you might be interested in
Your Web and Mobile App leisure time during the COVID-19
Does your business really need a mobile app?
Always a good idea for your website
Do you have the next idea for your project? Talk to Webilize
---